What are Electrical Earthing systems:
Electrical Earthing Systems
Electrical Earthing Systems are used or the grounding of all electrical circuits. Our systems are suitable for use in domestic, commercial, and  industrial applications. Commercial systems can be configured to suit customer requirements.
Key Attributes of our Grounding Systems
Our Grounding System has the following key attributes:
• All ground connections are made to earth via a continuous conductor (wiring system)
• All mechanical earthing is performed by our Engineering Services Department using a high–quality flexible conduit with a special earth clamping device which ensures that the ground system is completely sealed off from the rest of the building structure as well as from any other external sources such as soil or water. This ensures that there is no leakage into or out from any external areas where there may be a risk of damage or contamination. Our Engineers will also ensure that all external fittings are installed, correctly and that they comply with current regulations and standards set out by governing bodies such as BS701 Part 2:2006 (BS701),  IET Wiring Regulations 1995 & IET Regulations 2000 & IET Wiring Regulations 2012), etc.
• All electrical cables enter our solution through carefully designed conduit fittings which are screwed into place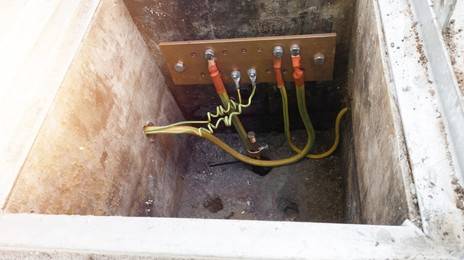 GIMZ Engineering Services our engineers have extensive experience in this field and they have successfully completed their training at leading institutes across Pakistan. they are also capable of dealing with any kind of project at a time, which makes us stand out from other companies in the market. Our team members have been working together for years now and they know exactly what it means to provide quality services to our customer.
Electrical Earthing Components :
Electrical Earthing Components
The following is a list of electrical earthing components that are used in the installation of a distribution board and its associated cable.
Earthing Rods
Earthing rods are connected to the ground rod at the base of your home and then run through the soil to your foundation. They should be installed at least three feet from any water source, including water pipes and drains. If you have a concrete slab or crawlspace, earthing rods can be installed between the slab and foundation, or even directly into your crawlspace.
Ground Wires
Ground wires are used to provide a connection between an electrical outlet and its grounding point on the building's surface. Ground wires are required for all metal buildings, but not for wooden structures or plastic-covered metal structures. Grounding wires may be buried underground if they pass through rock formations or over wooden posts that are more than 24 inches above grade.